Of all the cities in which to celebrate romance, Verona in northern Italy is a front runner. Besides being known as the land of Romeo and Juliet, it's a city full of colour, beauty and historical interest. It has frescoes, romantic bridges, churches full of pink Veronese marble, and a castle with a working drawbridge.
In 2000 it became a UNESCO World Heritage Site for its excellent representation and preservation of architecture from the "antiquity, medieval, and Renaissance periods, and [representing] an outstanding example of a military stronghold."
My husband and I celebrated our 14th wedding anniversary in Verona in November, and we loved exploring all this beauty and history on the ground. We also thought it would be fun to level up this trip with a €€€€ dining experience.
The Cangrande Ristorante & Enoteca is rated by Trip Advisor as the #1 restaurant in Verona. Rick Steeves dined here and described his experience in most poetic terms. Mr. Steeves' spelling of "Cangrande", however, is slightly off. The restaurant is probably named for Cangrande I della Scala, an influential nobleman and ruler of Verona, but "cangrande" also means "top dog", and that fits too.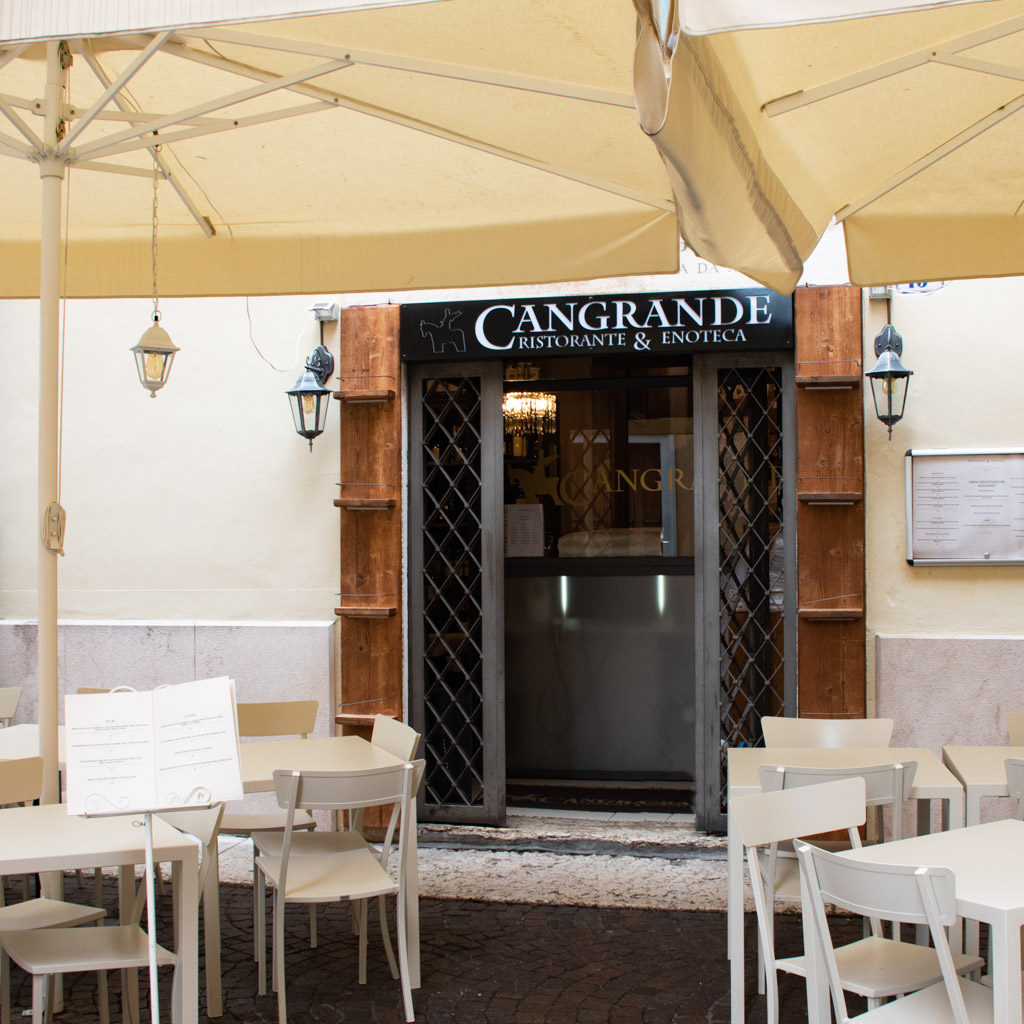 Full disclosure: This was my second visit to Cangrande. The first time was on another November day on a European road-trip with my aunt and my sister-in-law to celebrate our birthdays. I recall few details of the dinner except that in between the many amazing dishes, we laughed a lot and made frequent toasts "To Our Birthdays!"
On the day my husband and I arrived in Verona, we beat it to the restaurant five minutes before opening, to improve our chance of getting a reservation. No problem. Simone, the head waiter, was just arriving and he seated us without hesitating.
The prelude
Walking into the restaurant, you first pass by the kitchen window. There must be some benefit in the kitchen staff being able to see customers coming and going.
The dining room is elegant and well lit. The tables are each set with an 18-inch tall LED lamp, all the better to see the chef's creations.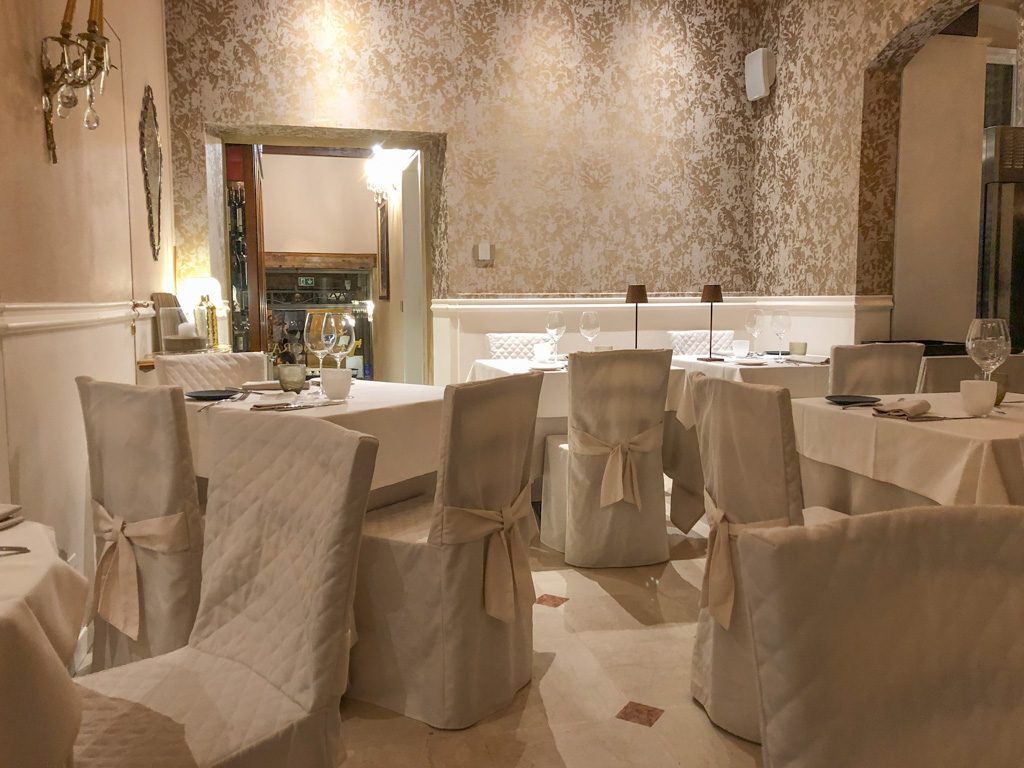 Simone, now wearing a long leather apron, brought us menus. The six-course Menu Degustazione Autunno (fall tasting menu) was the obvious choice. We wanted a local wine, so Simone steered us to an Amarone. This is a style of wine produced in the Valpolicello region of Veneto, Verona's province. The wine is known to marry well with rich meat dishes.
Of course, Cangrande is also an enoteca, so you can expect to see something special about how they handle the wine. Simone poured about an ounce into one of our wine glasses and swirled it around. Then he poured it into the other wine glass and swirled that around. Finally, he poured the swirl into a third wine glass and left it on the table, where it stayed all evening.
The courses
The opening course was a little saffron potato flan in a pool of saffron cream.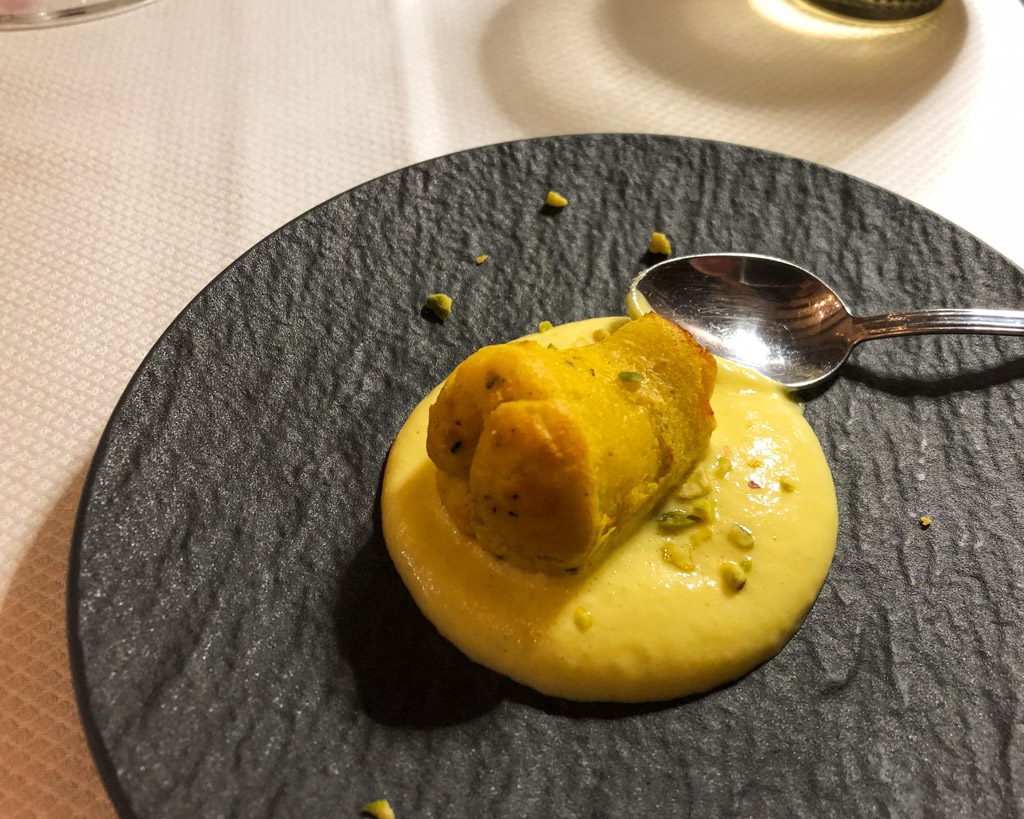 Next up was a poached egg nestled on a slice of foie gras, which was set on toasted pan brioche and surrounded by frothy parmesan cream. Simone gave us our spoons and explained how to eat it: "Don't stir it up. Cut into it, get some egg, some foie gras, some brioche on your spoon, all at once." Thus, with each mouthful we were able to appreciate the mix of textures in this rich and tasty dish. We noted that every element in the dish was room temperature, perhaps because the foie gras would melt under heat.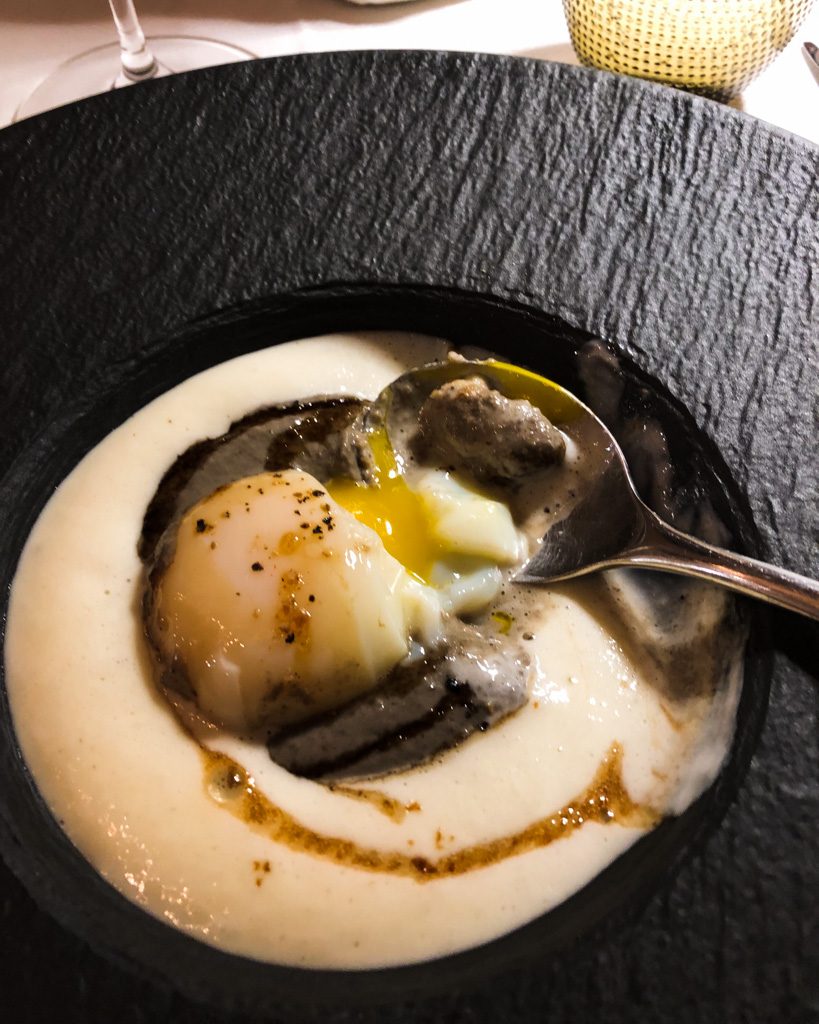 The pasta course was a bowl of warm gnocchetti stuffed with smoked ricotta and dressed in a truffle sauce.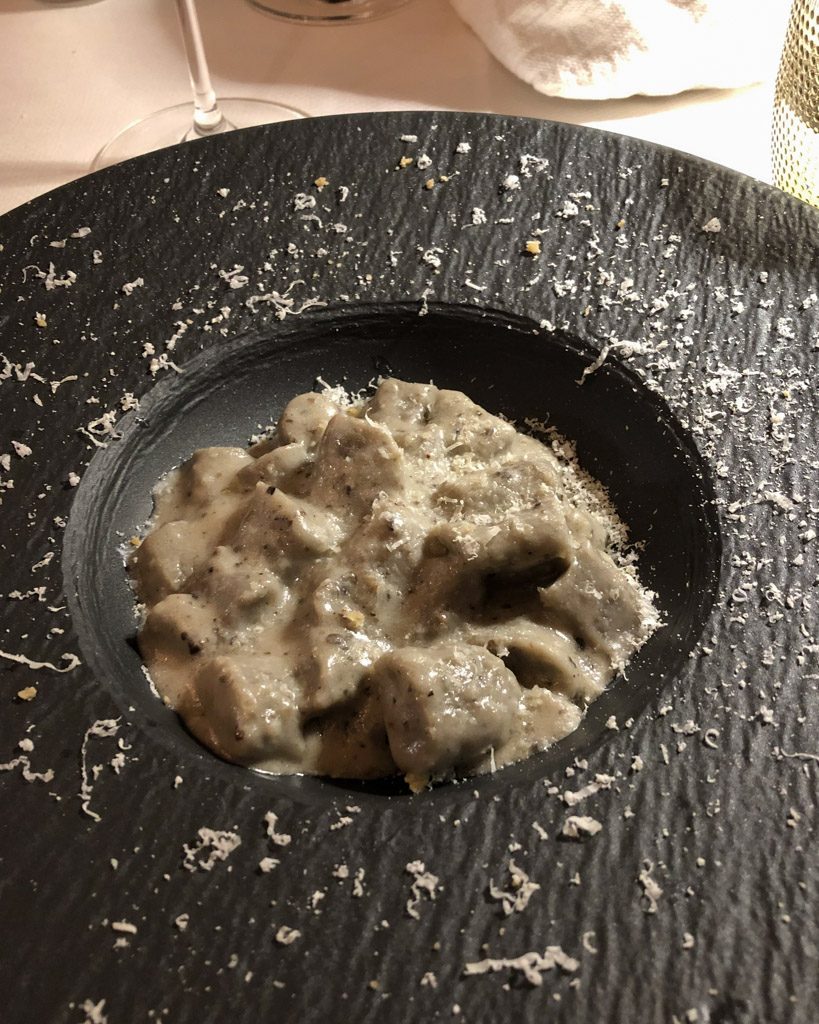 Then came the meat course—a melt-in-your-mouth braised beef cheek in a rich glaze with a saffron potato flan. "We eat this only in cold weather," says Simone, referring to the slow-cooked beef cheek. "Never in the summer."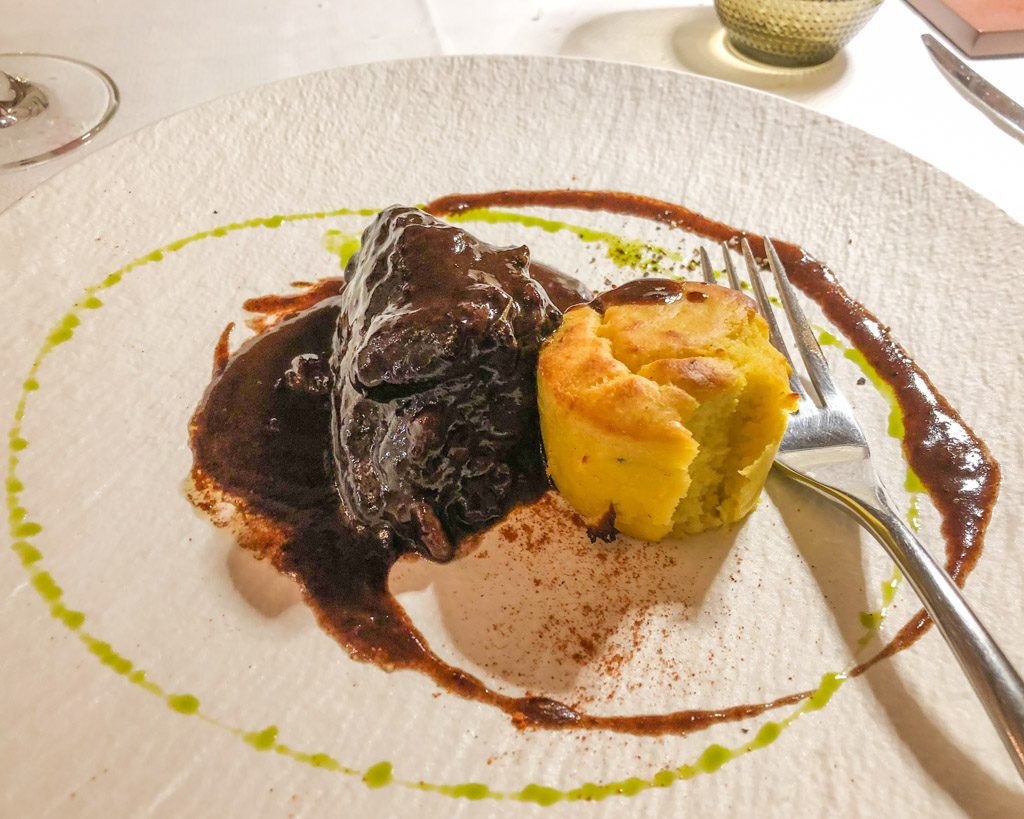 On to the "pre-dessert", a perfect little sambuca-flavoured mousse with fig jam.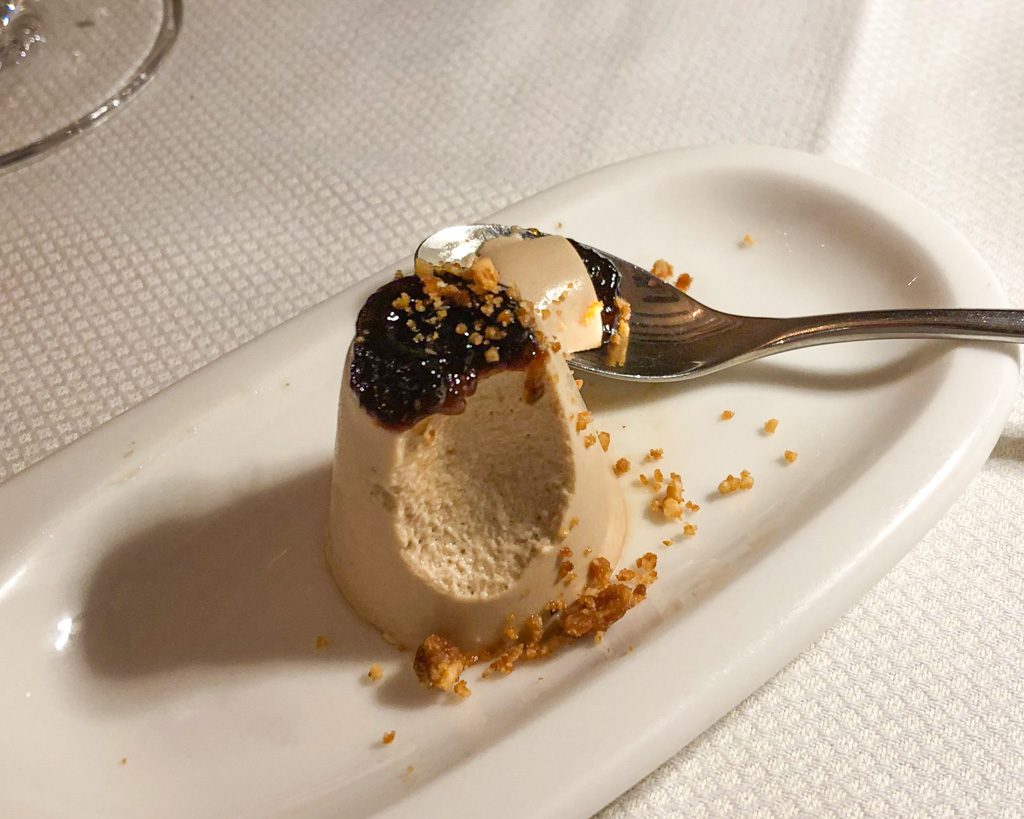 By now I was getting full, especially as I had been mopping the sauces off my plate with chunks of bread. The cheesecake came to the table, and I thought about how heavy and dense cheesecakes can be.
Wow, this one was light and fluffy. If I were to try to re-invent this, I think I would start with whipped cream and mascarpone and nothing else. But no way can it be that simple. Served with the cheesecake were glazed figs, pine nuts, crispy, hand-made sesame-seed snaps, and edible violets.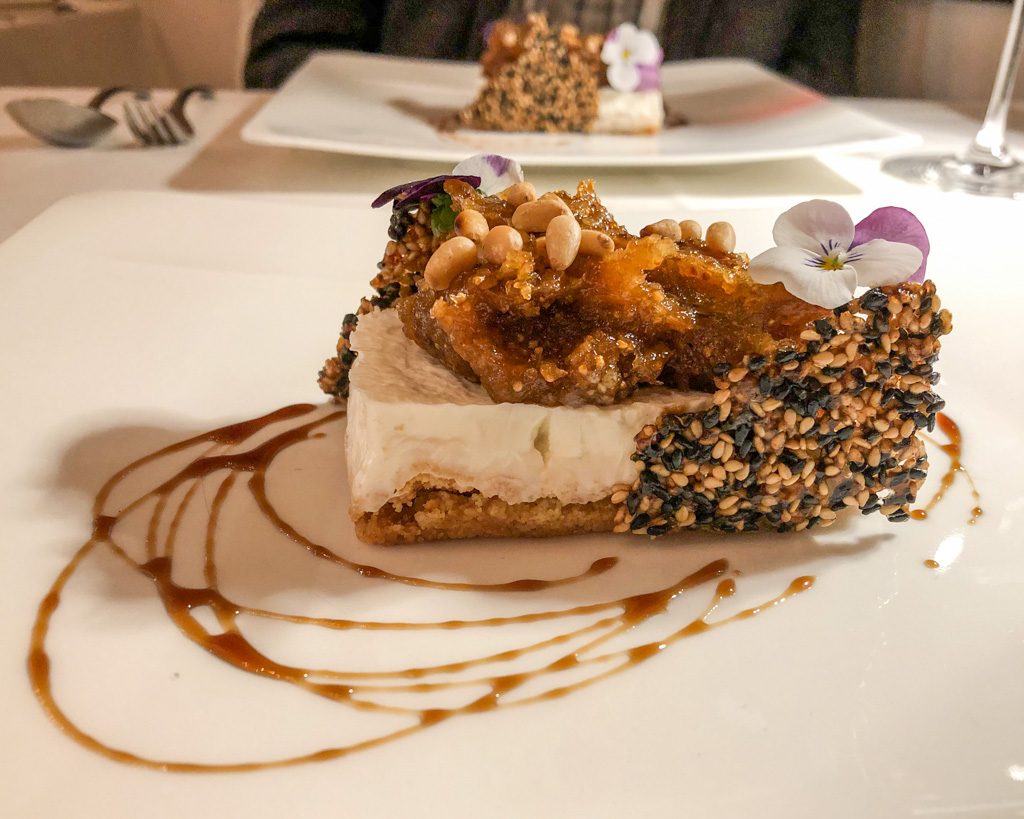 At this point in the meal we noticed that we had not eaten one vegetable or fruit, except for the potatoes, figs, and truffle And we didn't miss it. But I did wonder, Should I go to the market in the Piazza delle Erbe tomorrow and eat a whole cauliflower?
We ended the meal with espressos. I saw a server bring coffee with a plate of cookies to other tables. "No cookies for us," I said, "We're too full." The server was both attentive and astute: he brought us coffee with "just one" large cookie, which we shared.
The finish
In Europe's finer restaurants, waiters frequently thank their customers with "schnapps on the house", or whatever is the national drink. Simone poured us their house-made liqueur. "It's not limoncello and it's not grappa," he said, secretively. It was chilled and lemony, but also warming—just what we would appreciate before we step into the cold November night.
Simone escorted us to the door. Since I had been taking pictures of my food all evening, he invited me to take one with the chef and his dessert.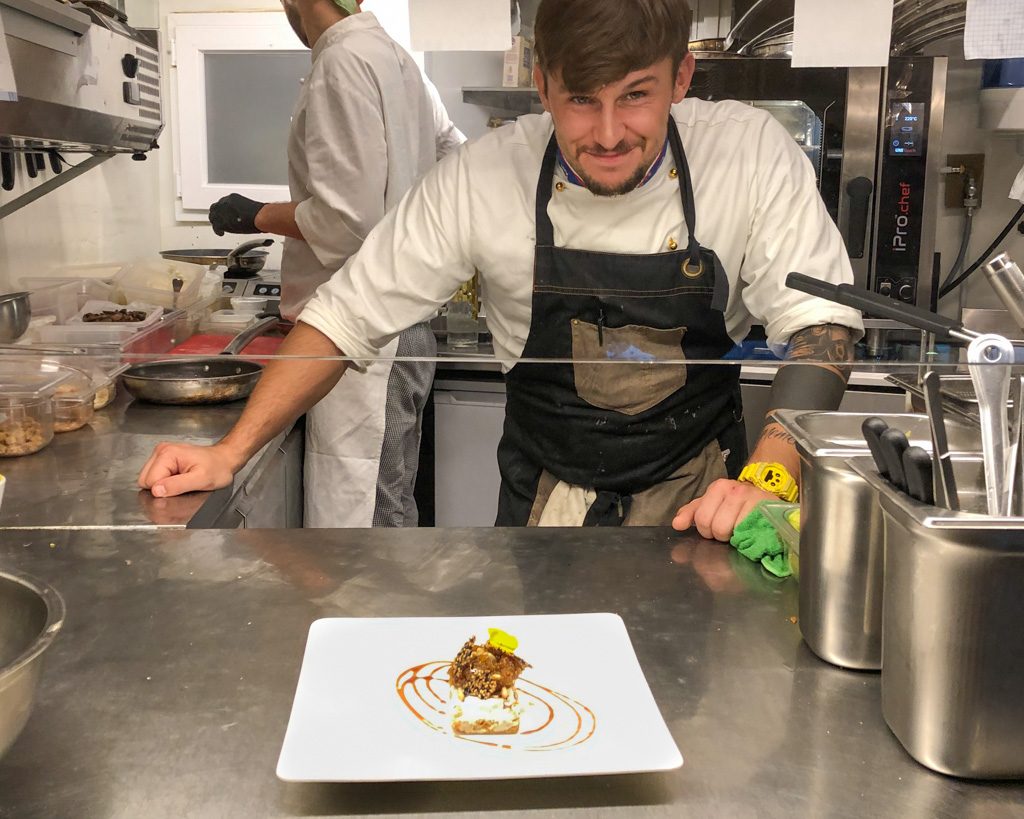 Was it worth the €€€€? I would say so. At every point in the evening—from first contact to saying good-bye—we were treated like honoured guests by Simone and all the servers. It's easy to see how the Cangrande earns its ranking on Trip Advisor as the #1 restaurant in Verona.